Domaine Gros'noré and sustainable wine making in Bandol
Here's another post in my series about sustainable wine making in Bandol, France.
This time, Domaine Gros'Noré, a wine hard to spell and even harder to pronounce, at least in English.
I visited in March this year and interviewed Pascale Parodi, manager at Domaine Gros'Noré. I met the wine maker Alain Pascal, briefly, but he wanted to get back out into his wine and didn't dally to chat.
My French is not good enough to debate the intricacies of the questions I wanted to ask with him, so I sat down with Pascale, his manager, to ask a few about sustainability in the region, and how it applies to Domaine Gros'Noré.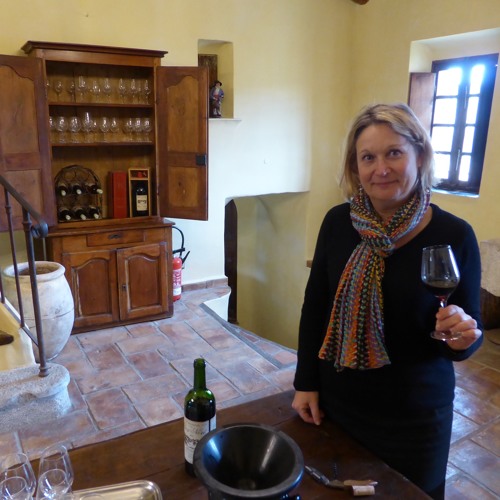 More about that in a moment. First, a bit about the Domaine, and the wines.
One of my favourite wine books that covers this region is Adventures on the Wine Route: A Wine Buyer's Tour of France, by Kermit Lynch. It was published in 1990, so a bit early for Domaine Gros'Noré, where Alain Pascal only began making wine in 1997. But the author is a big Bandol fan, and has some excellent descriptions on his current website. Here's a few excerpts about Domaine Gros'Noré:
"For years he sold his prized fruit from Bandol to Domaine Ott and Château de Pibarnon. Though he and his father would bottle their own wine for family consumption, they never labeled it under their own domaine name. Kermit has called those early family wines, "Magnificent Bandols made in the simplest manner, très franc de goût, with a whole lotta soul." In 1997 after his father's death, Alain officially started Domaine du Gros 'Noré, a real shift that has brought him more than just casual notice. Alain is already a leading contender in Bandol, the appellation regarded as the grand cru of Provence."
"Alain leaves his grapes to mature fully on the vine, lending great intensity to the fruit. Where appellation law demands that each blend includes at least 50 percent Mourvèdre, Alain uses 80 percent—a choice that gives more power and concentration to the final assemblage.   Do not be fooled by the strength and boldness of the Gros 'Noré Bandol, though; underneath a big exterior is a wine of character, depth, complexity, soul, and finesse."
Fans of Bandol ought to try Alain Pascal's wines. The red is the wine I can recall best and it's a beast of a wine. This is another reason to explore Bandol properly. The wines are so different in character even across the road from one another. Winemakers seem able to use Mourvedre and the blending grapes that go with it (Cinsault, Carignan and Grenache, but not always all together) to really stamp their own mark on their wines. (Note that Alain Pascal doesn't use Carignan. See below for details).
Domaine Gros'Noré certainly does have it's own big personality. The 2008 'ought' to be in a prime drinking window now, but the few bottles I've had needed 12 hours decanting to start showing properly, that's what a big wine it is. And when I say big, I don't mean overwhelming alcohol and/or fruit, like one sometimes gets with big reds in the South of France. More that the Mourvedre, used in large quantities, has unique qualities of being quite austere, yet with concentrated black fruit and a smokiness and earthiness that can make them pretty powerful. The Domaine Gros'Noré 2008 is that, in spades. There's a picture below.
Based on my limited experience of it, keen readers will want to utilise the serious decanting time I suggest (trust me, Mourvedre can handle it, and needs it, at Tempier we had young wines that had been open for almost a week, kept cool in the Barrel cellar) and perhaps focus on older vintages, to let the tannins calm down a little.
Trying the 1997 I could see how that time allows the wine to really evolve. Given the small production at Domaine Gros'Noré you may find it hard to get without going to there to visit. But that's a good reason to go along.
Listen to the podcast below, for more on the wines, and how Domaine Gros'Noré plan to tackle rising temperatures, later harvests and the challenges of alcohol levels in the wines.