Podcast on sustainable wine making in Bandol, with Frederic Tomayan of Domaine de la Begude
Here's the first of half a dozen or so podcasts from Provence, particularly Bandol, which I will be publishing in the new few weeks.
Bandol is fast becoming one of my favourite regions for wines in France. The reds can be truly stunning, the whites hard to find and superb with seafood and the rose wines are, I think, the finest in the world.
Generally in Bandol, my sense so far is that the whites are drunk in local restaurants and made in small quantities, whilst the roses are made in quantity and the reds provide the higher margins. The wines remind me of the complexity of left bank Bordeaux when at their peak, only with much less oak, and so are somehow a bit cleaner on the palate.
So far I've visited only around half a dozen wineries, and detailed information on Bandol in English is fairly sparse, so I'll cover more ground about the region as I publish posts and interviews in the coming months. So far, aside from Begude, I've also interviewed winemakers and managers from Tempier, Domaine du Gros'Noré and Suffrene. Outside Bandol, there will be further podcast and interviews with Château de Bellet, near Nice, and  Domaine de Trévallon in Provence, published soon.
First up, here's an interview with Frederic Tomayan, general manager of Domaine de la Begude in Bandol, about his views on sustainable wine making, organics, biodynamics, climate change adaptation techniques and alcohol levels, amongst other things.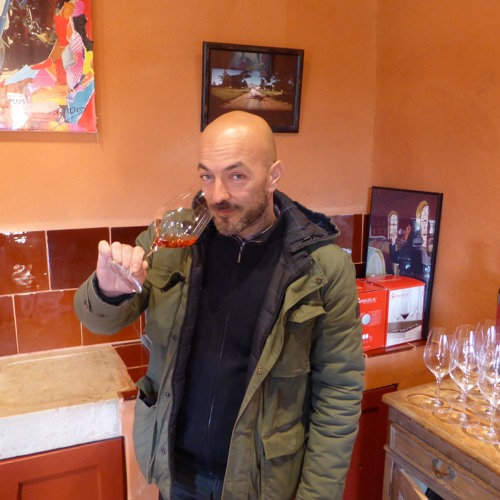 The wines are made on a huge 500 hectare estate at the highest elevation (400 meters up) in the entire Bandol appellation. The wines are made on a 20 hectare section in the middle.
The reds and rose wines at Domaine de la Begude are Mourvedre, Grenache, and Cinsault. The whites are made from Clairet blanc, Ugni and Rolle. Like everywhere (it seems) in Bandol, all the wines are organic.
Begude was suggested to me by various friends in the wine trade as one of the top estates in Bandol. I won't bore you with my tasting notes, suffice to say I agree, and their wines are all worth investing some time and money in.
As with any of the reds in Bandol you need to make sure what you are drinking has not 'shut down' after a couple of years before opening up again later. That seems to happen with Mourvedre-based reds. My experience of Bandol so far is that 10-15 years old is the best drinking window for the top reds, but they will also drink on release, whilst being highly tannic, before their 'shut down' period from 3 – 10 years of age.
I realise that's a serious generalisation though, and so let me offset that by saying that from what I understand, there's a fair bit of variation across the 55 or so AOC estates of Bandol, due to differences in soil and geography. It's a lot of fun as region to discover, for precisely that reason.
More about the wines, the domaine and the Tari family, who live on the estate as owners, can be found here.
I'll let Frederic explain more about Begude, listen to the podcast below.